Human hair wigs are having a huge moment in the beauty industry. They have been a staple for celebrities who want to change their hairstyles for the red carpet or any functions without damaging their own hair. Besides celebrities, wigs are also popular on social media where beauty influencers have been showing their different hairstyles. For people who want to increase the length of their hair or improve their appearance, wearing a wig is the simple and best choice. Whether you are going to work or dating, just wear beautiful human hair wigs and you are all set. Read on to learn more about the charm of human hair wigs.
Why buy human hair wigs?
Different types of human hair wigs
How to take care of the wig to make it last longer?
Where to buy high-quality human hair wigs?
Why Buy Human Hair Wigs?
Quality Hair Quality
Best human hair wigs use unprocessed Remy hair, Remy's hair is considered a high-quality choice, the quality is the best, all this keeps the stratum corneum in the same direction, can greatly reduce the tangles and make the hair look natural and real.
Multiple Styles And Colors
100 human hair wigs are very versatile and glamourous. There are many different ways to style a wig and there are many different wigs available to style. These wigs are available in straight hair, curly, middle parting and Brazilian hair bundles. You can also choose natural color, blonde, ombre as well as highlights to suit your skin color.
Avoid Damage To Hair By Perming And Dyeing
Perming and coloring your hair will cause damage to your natural hair in the long run. Wigs can eliminate that because you can have the hairstyle you want without any perming or coloring hence, your natural hair is protected.
Different Types Of Human Hair Wigs
With headband wigs, you do not have to deal with any lace part of the wigs or even apply the gel on your head. To wear this wig, just slid around the head and put it into place using the headband rather than clips or other fasteners. You can just put it on your head effortlessly within seconds. This protective style is so convenient and is a total lifesaver for women who are always on the go. A plus point about this type of wig is that it is very affordable.
You can express your own creative style with a lace part wig. This type of lace wig can be worn in a half ponytail, low ponytail, or even side ponytail. The lace part wig covers the neckline naturally while looking glamourous. A lace part wig is the simple type of wig used to cover the wholes on the with its small wig size. This part wig is different from the full lace wig, and a user can only use the lace part wig at some special part.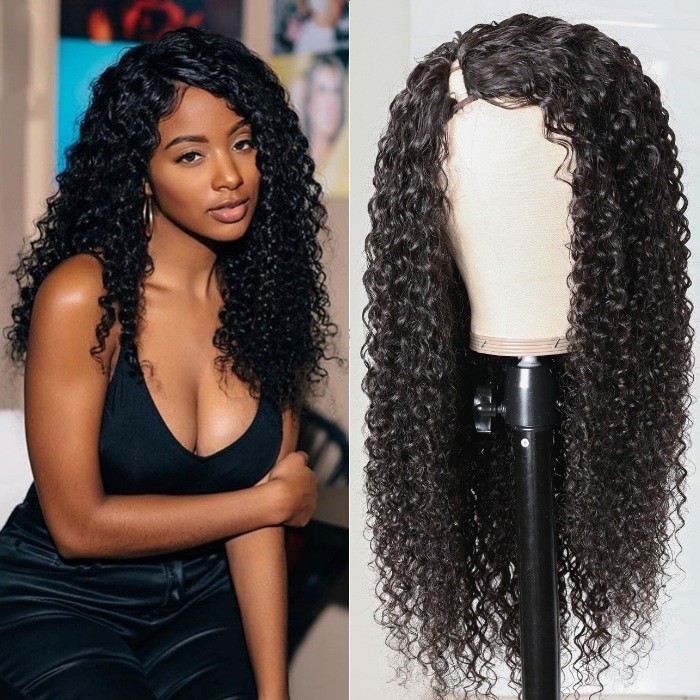 A wig is called u part wig because of u shape that it leaves on top of the head. The u-shaped part of this wig is constructed on the top and thus, it allows you to wear your natural hair through the opening of the wig. Due to this, you can easily blend your hair with a wig and cover the extensions to get the natural look hairline without spending long hours in front of the mirror. It is very easy as well as a protective style and here is a proper full-fledged for beginners based on the installation of u part wig human hair.
One of the most innovative wig types is the fake scalp wig. Unlike a regular wig, the fake scalp wig has an extra layer of a see-through lace, which allows hair styling and parting in any direction you like. Plus, you don't need to braid your hair or hide it underneath the bald cap. The fake scalp wig allows you to wear it right on the top of your natural hair, without any extra preparations.this is good for use due to its full natural look, soft and breathable shape, and shining to give all users more attention.
How To Take Care Of The Wig To Make It Last Longer?
It is recommended to wash the human hair wig every 7–14 days. Use a wide-toothed comb to comb the human hair wig. Add mild shampoo to the cool water and then clean the hair. The use of shampoo increases the volume and fluidity of the hair, minimizing the possibility of tangling and preventing multiple forms of hair tangling. Leave the conditioner in your hair for 3–5 minutes. When the hair is moist and soaked with wig conditioner, the wig is gradually combed upward from the tip. Rinse thoroughly. Apply argan oil to soft hair after washing. A better way to dry your hair is to gently blot it with a towel. Wait until the wig is completely dry and place it on the wig holder.
Where To Buy High-Quality Human Hair Wigs?
The best hair extensions and human hair wigs can be found at kriyya. This leading international hair retailer has a wide assortment of beautiful and natural-looking hairpieces that are made from the finest material.
Surprise More Free Gifts On Halloween Sale!
Click https://www.kriyya.com/kriyya-halloween-2020.html, and you will get an immediate discount of 8 USD at checkout, which can be used in combination with a coupon code.
$3 OFF Over $69, Code: Khair3
$5 OFF Over $89, Code: AUT5
$8 OFF Over $99, Code: ATHS8
$5 OFF Over $129, Code: Remy5
$8 OFF Over $159, Code: NH8
up to 35% off all hair wigs
40% off all 7a hair
22% off Human Hair Weave
20% off human Hair Bundles & Closure